Narrative Introduction
Thuwarri Thaa is an enormous, awe-inspiring underground Aboriginal ochre mine that was nationally heritage listed in 2011 in recognition of its high cultural significance and for the unique evidence it preserves of ancient Aboriginal mining technology (Australian Government, n.d.). The site is the largest Aboriginal ochre mine in Australia and is located at the heart of Weld Range in Wajarri Yamaji Country in the Midwest of Western Australia. This is a hot, arid landscape surprisingly full of Aboriginal archaeological sites which attest to the Wajarri people's description of Thuwarri Thaa as a very special cultural centre since time immemorial, where ochre (red, yellow, white, even green) was mined out of the ground and processed for use both in local ceremonies and to be carried away and used elsewhere or traded (Clarke, 1976; Crawford, 1975a-c, 1980; Davidson, 1952; Kretchmar, 1936; Scadding et al., 2015; Smith, 2013:278-282; Woodward 1914). The hills of Weld Range and flat land either side provide a good variety of food, stone, wood and water sources so that use of Thuwarri Thaa was facilitated by the relatively resource-rich country around the mine (Brown and Winton, 2015; Brown et al. 2017; O'Neill and Jordan, 2007; Winton et al. 2014:204). In fact, the National heritage list area also includes the Little Wilgie ochre mine three kilometres west of the Thuwarri Thaa mine. Ochre is still collected from these sites by Wajarri for use in ceremonies today. Thuwarri Thaa and Little Wilgie are now only accessible to members of the general public if they are accompanied by Wajarri Yamaji Traditional Owner guides and, in the case of Thuwarri Thaa, if they are in possession of the necessary government permit.
This chapter provides a case study in Aboriginal engineering: the technical process by which ochre was mined from deep underground and then processed and selected for use. Unlike western engineering which aligns itself with science, the Aboriginal mining of Thuwarri Thaa and Little Wilgie is inextricably entwined with a spiritual understanding of the creation of the sites and their on-going cultural and religious roles in Aboriginal society.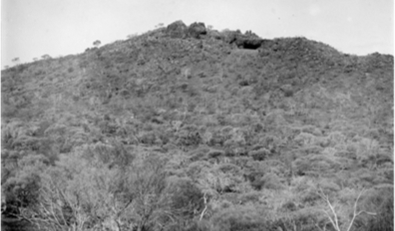 View south towards Thuwarri Thaa, photographed by Kretchmar in 1910. William H. Kretchmar Collection, courtesy Western Australian Museum, DA3944.
Site descriptions
The entrance shaft of Thuwarri Thaa ('red ochre hole' in Wajarri language) is a 20 metre wide, near circular chasm, located towards the top, and on the north-facing flank, of a hill in the centre of Weld Range (Figure 21-1) (Woodward 1914: 75, Crawford 1971, Brown et al., 2017). From the north wall of the entrance shaft, a cavern extends in a southerly direction some 50 metres (Woodward 1914, Crawford 1971). The walls and ceiling of this impressive cavern and entrance shaft are shaped by the scars of Aboriginal mining where good quality ochre of bright colour and smooth texture has been chiselled out from between harder bands of rock. Tunnels and galleries made by Aboriginal miners chase away from the main cavern, following seams of ochre. Bright swirls of red, yellow and white ochre pattern the interior of Thuwarri Thaa with blue-ish and green-ish hues also represented.
By contrast to the deep underground mine of Thuwarri Thaa, Little Wilgie is a hill measuring 450 metres by 300 metres with exposures of ochre in a series of rockshelters around the summit and ridges
For more information contact:
Ethical Engagement and Wajarri Yamaji Aboriginal Corporation contact details in https://www.wajarri.com.au/contact-us/
Extract from Chapter 21, Indigenous Engineering for an Enduring Culture, edited by Cat Kutay, Elyssebeth Leigh, Juliana Kaya Prpic and Lyndon Ormond-Parker. Published by Cambridge Scholars Publishing
---
Authors: Vicky Winton, Viviene Brown, Colin Hamlett, Carl Hamlett, Brendan Hamlett and Anneliese Carson
Location: Weld Range